Dental Prosthesis Salou Tarragona
Fixed dental prostheses are used to replace missing or damaged teeth. Previously ground pieces of natural teeth are used as support. It is called a crown if it is for one tooth, or a bridge if it is for several teeth.
Complete rehabilitation with fixed prostheses on implants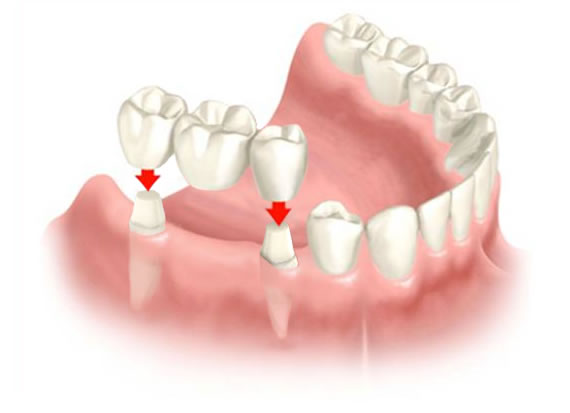 Formerly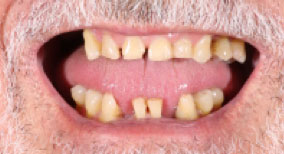 Then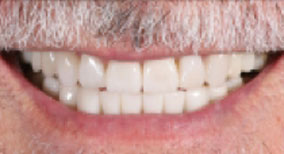 It is not necessary to remove the prosthesis from the mouth for cleaning or maintenance.
It is a quick solution to replace one or more teeth.
High aesthetics are achieved, especially with the new metal-free prostheses.
METALLICS
The all-metal bridge crown (gold, chrome, nickel...) is aesthetically not the best choice due to its aesthetic appearance and is used in posterior teeth, especially in damaged milk teeth in children who still have a long time to replace them.
METAL-PORCELAIN
are made of porcelain fused to metal. It has been for many years and continues to be a good solution for replacing teeth, especially at the posterior level. Over time a dark halo can develop around the tooth, which in anterior teeth is not the best aesthetic option today.
METAL-FREE CROWNS OR BRIDGES
(Lithium or zirconium disilicatio): as its name indicates, these are crowns or bridges that do not have metal as a support, which gives them an extraordinary appearance and naturalness, making it almost impossible to distinguish them from the natural teeth, which is why they are the best option for anterior teeth due to their great aesthetics.
It can be carried out in THREE phases:
1st session:

The natural tooth is carved and impressions are taken and sent to the laboratory. A temporary crown or bridge is then placed to be used for the duration of the treatment. We currently have dental scanning systems, thus avoiding the use of impression pastes and improving the patient's comfort.
2nd session:

After 10 days, the fit of the metal or zirconium framework is checked and the colour is taken.
3rd session:

the provisional bridge or sheath is removed and the definitive one is then cemented.
Occasionally, depending on the case and its complexity, a further session may be necessary to carry out an intermediate test.
On occasion, depending on the case and its complexity, an additional session may be necessary to carry out an intermediate test.
The denture-type prosthesis is attached to the gum and can also be supported by the patient's existing teeth. The main advantages of this removable prosthesis are the ease of oral hygiene, as they can be removed for cleaning, and that they are suitable for an adult patient profile who has lost their teeth and who needs a rehabilitation of the whole mouth by means of an economical treatment.
The main disadvantages of removable dentures are that they rest on the natural teeth and/or gums. If you are wearing a removable prosthesis for the first time, it sometimes takes some time to get used to it.
Overdentures or removable prostheses on dental implants are also called mucosa-supported prostheses. It combines osseointegrated implant support with soft tissue (gingiva).
The main advantage of this type is the lower cost when compared to fixed tooth implants, achieving a similar stability of the prosthesis. The overdenture is financially more expensive than in the case of dentures, although much more comfortable and stable.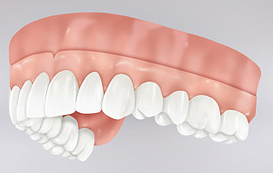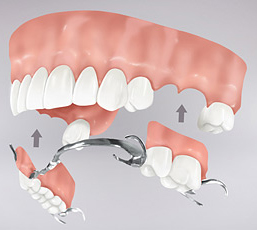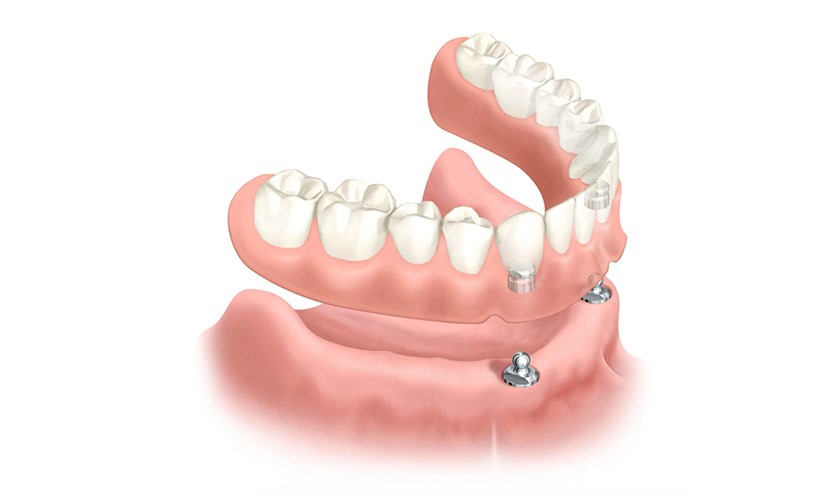 Dental Prosthesis
Request your Visit and smile again