Dental Aesthetics Salou Tarragona
In the USA it is said that the best business card is a good smile. For this reason, dental aesthetics is of great importance in that country. Precisely, one of the systems that is most used to beautify the smile is that of DENTAL CHILLINGS.
This is the latest revolution in dentistry. Would you like to improve your smile but don't know what you look like?
Thanks to calibrated digital simulation, we are able to present you with a digital visualisation of a possible smile makeover and then carry out the proposed treatment. Let yourself be impressed by the results of our treatments.
A veneer is a facet or sheet of very thin porcelain (0.3 to 1.0mm thick) that covers the front face of the tooth. They can also be made with another material, composite, but their durability and aesthetic results are inferior to those made with porcelain. The veneer is bonded to the tooth with a special cement that makes it very durable. The changes obtained with this treatment, as well as being very conservative, give us very beautiful results, which is why it has become the preferred aesthetic solution for many actors, models and professionals who make a living from their image.
It is an uncomplicated and painless procedure for the patient; however, the professional who carries out this treatment requires specific knowledge if he or she wants to achieve the goal: a perfect smile.
Formerly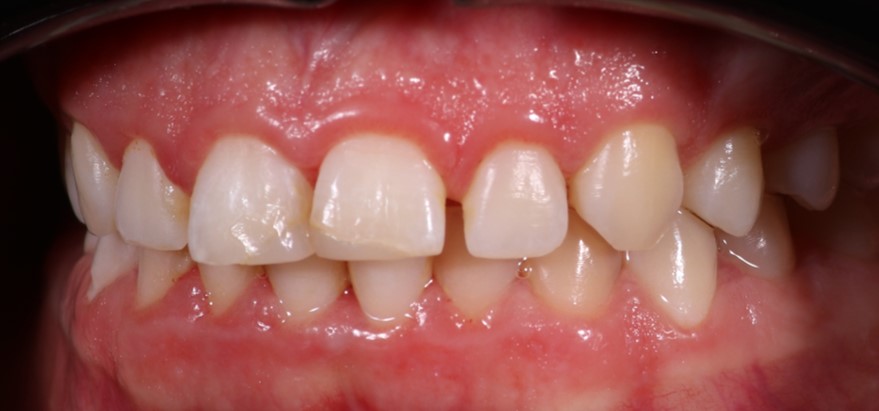 Then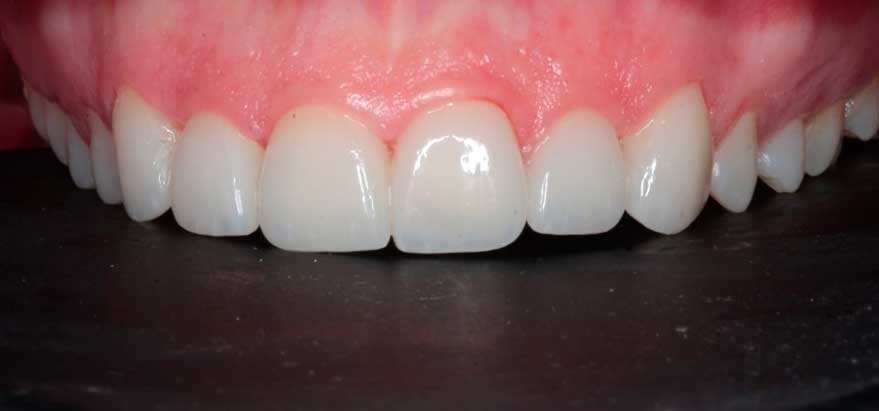 Formerly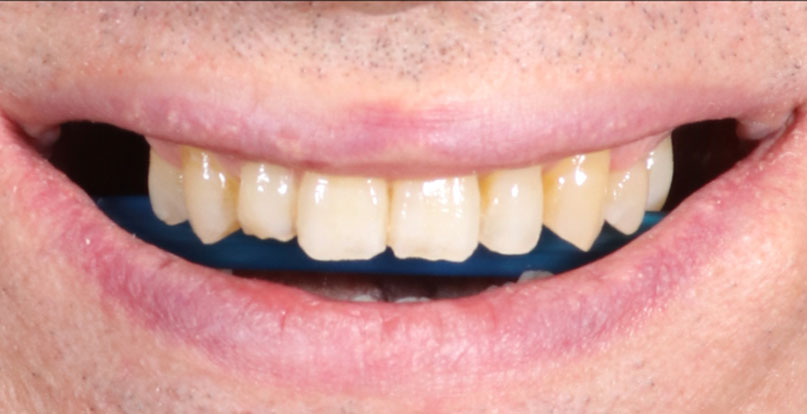 Then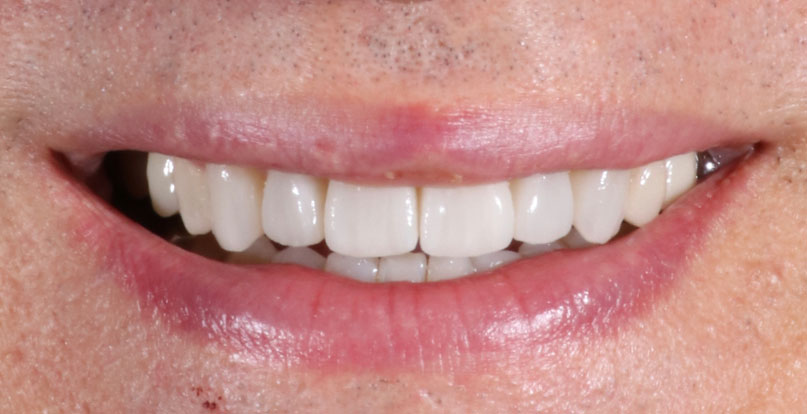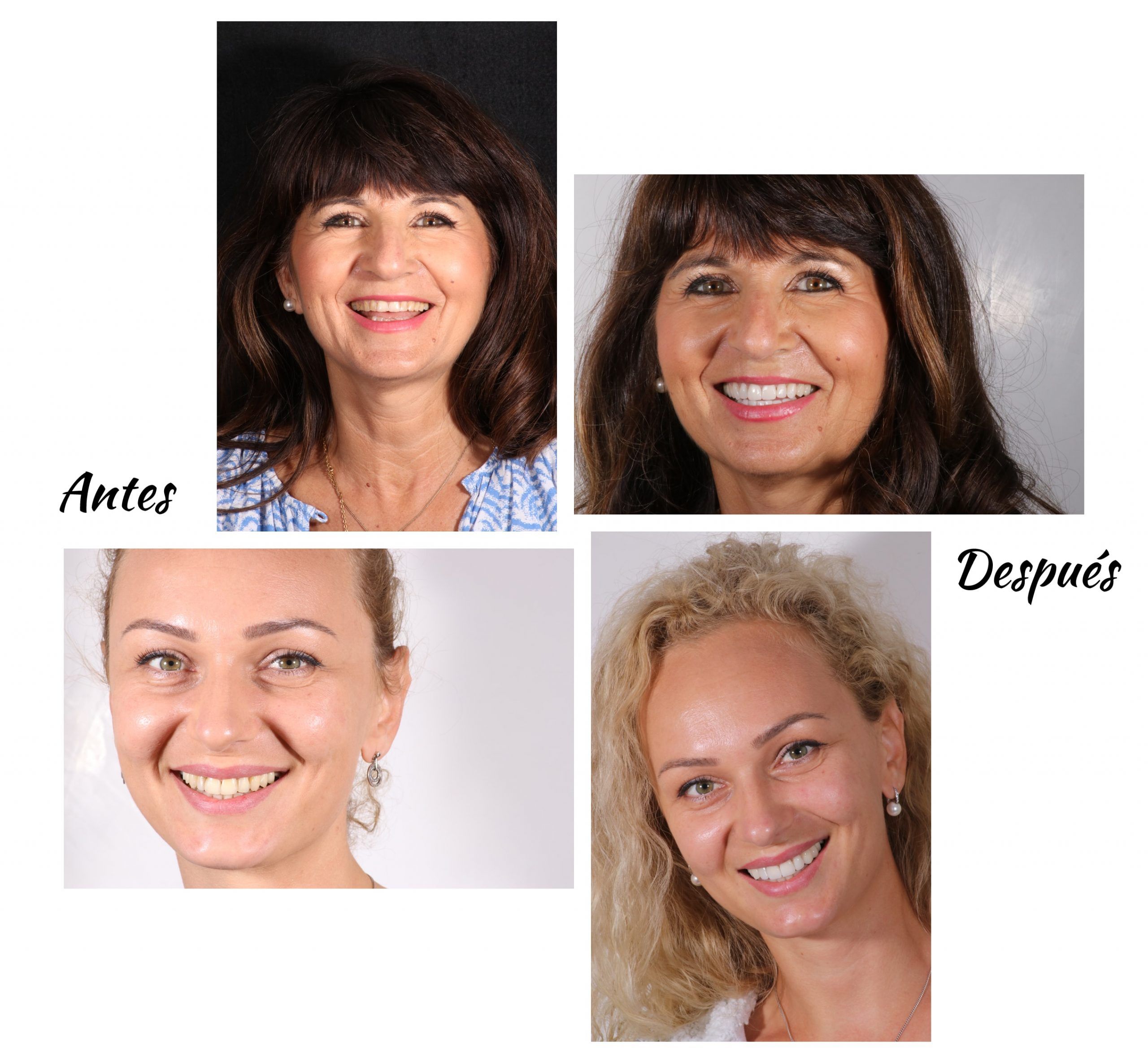 FirstFit veneers in just two sessions:
1st smile design.
2nd placement of veneers.
We innovate in the treatment of dental veneers with First Fit Veneers. With them, you'll get your smile back instantly, no temporary veneers are needed. In addition, it is a 100% digital process.
Why FirstFit?
It is a minimally invasive process, using digital technology and smile design.
You'll enjoy a smile as good as new in fewer visits.
Being custom-made with the use of digital technology, they guarantee the quality, fit, function and aesthetics appropriate for each case.
Before carrying out the treatment, the patient must undergo a thorough examination of the oral cavity in order to eliminate any pathology he or she may have that could damage the final result; gingivitis, periodontal disease, caries and large orthodontic discrepancies. Once any of these problems have been corrected, a photographic, dental and facial study is carried out and a study impression is taken. The latter will be used by the prosthodontist to prepare a wax-up (wax veneer) on a plaster replica of the patient's teeth; a resin mock-up (or copy of the wax-up in resin) will then be made and placed by the dentist on the patient's tooth so that both can see the result in the mouth and, if necessary, make any necessary retouches. The front side of the tooth on which the final veneer will be placed should be lowered by 0.3 to 0.6 mm. Afterwards, your dentist will take a final impression of the tooth, which is essential for the prosthetist to make the final veneer. In the last visit, after verifying the fit of the facet, it is placed and cemented.
Thanks to this process, the patient knows that his mouth has recovered its function and dental health. From now on, they can show off their smile.
Over the years, teeth turn yellow and lose their natural shine. In addition, stains from tobacco, coffee, tea, other coloured drinks and certain foods give teeth an unpleasant appearance.
The whitening is carried out in the office, with a specially formulated gel, activated by a blue LED light source, which activates the process. It is carried out in a 1 hour session, giving you back a bright white smile.
These are procedures performed to repair or modify periodontal tissues or their substitutes, with the aim of contributing to a more harmonious and beautiful smile.
With these techniques we are able to improve situations such as the exposure of tooth roots, reduce excessive gum exposure when smiling or even out tooth margins to give balance to our patients' smiles.
Dental Aesthetics
Request your 1st Visit and smile again